Our Partner
State Adjusting Services
When a claim occurs, our clients rely on us to handle it efficiently and diplomatically. Leveraging our experience and powerful claims management software manages even the most complex of claims with expertise and consistency. This helps our clients save indemnity dollars while providing an excellent customer experience to maintain the integrity of their company brand.

As every client is different, our team develops customized claims handling instructions based on individual client circumstances and expectations. We consult with clients to create personalized and special account instructions with dedicated teams.
Contact State Adjusting Services: (630) 297-8234 or info@staterestoration.us
State Ajusting Services
State Ajusting Services help home and business owners when they have damage to their buildings and property. Through professional representation, they make sure the insurance companies treat them fairly, and more importantly, pay them.
Visit WebSite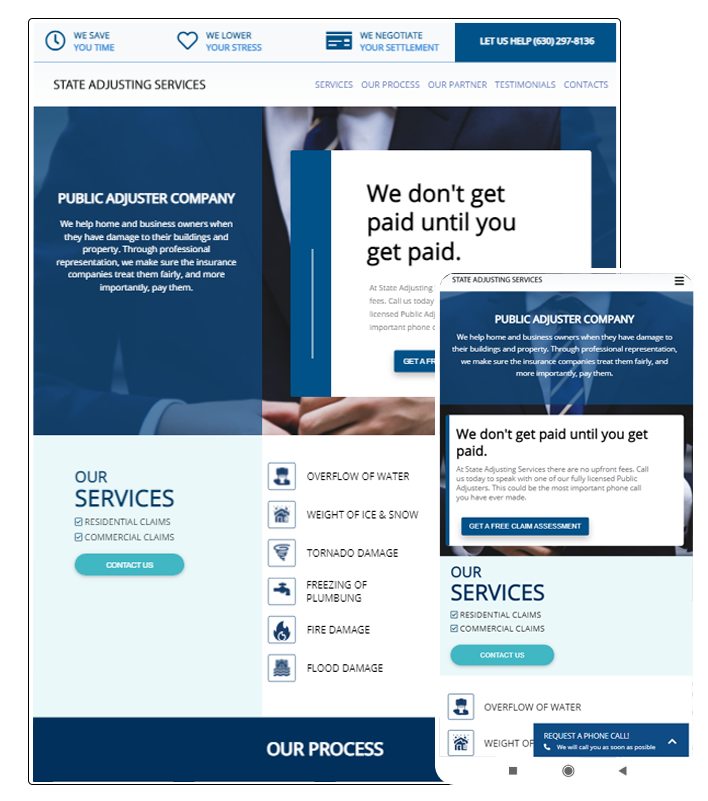 State Adjusting Services can:
Investigate the claim
Investigate and document the loss and damage
Analyze any liability allegations
Review and update reserves, ensuring accuracy
Search for contribution, indemnity, or loss transfer
Identify opportunities to resolve claims early, avoiding indemnity creep
We provide the following services:
Intake of claimant calls
Set-up of online claim files
Distribution of claim application documents to claimants
Receive and review claim documents
Request additional information from claimant
Receive and review additional information or documents
Receive and review out of pocket claim documentation
Adjust or approve settlement amount accordingly
Document financial information for reporting purposes
Submit bordereaux report of financial data for reconciliation to Administrator
Receive authority to distribute payments
Issue payments
Close files and submit invoices for fees
Set-up of toll-free numbers and email addresses
Set-up of trust funds